Registration
Schedule
Closing date for Advanced Registration: September 30, 2019
Closing date for Online registration: October 31, 2019
After November 1, 2019, On-site Registration will be available at the Registration Desk during the meeting.
*All deadline dates are in Japan Standard Time.
Registration Fees
*All payment must be made in Japanese Yen.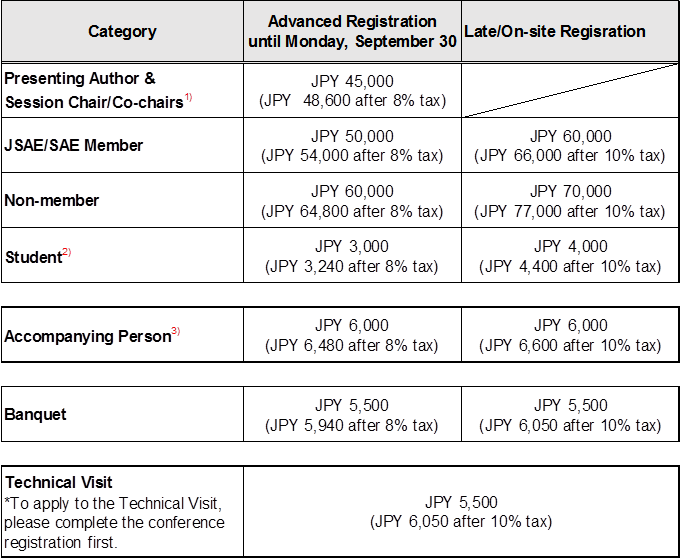 Note: The consumption tax rate of Japan will increase from 8% to 10% from October 1, 2019.
Entitlements of Registration:
Admission to the Opening, Award & Closing Ceremony
Admission to Keynote Speeches, Specially Invited Speech & Plenary Session
Admission to Technical Session with Proceedings media
Admission to the Exhibition & Poster Session
Welcome Reception
Lunches, Network Breaks
Please note:
1) Presenting authors and chairs/co-chairs are required to register and payment by September 30, 2019. Please contact the Registration Office if it is difficult to do so. Otherwise, author's paper will be deemed as withdrawn and thus will not appear in the proceedings.

2) Student rate is applicable only to those who have full-time student status at the time of the conference. Students are required to submit a scanned copy (in either JPEG or PDF format) of their student ID card or student certificate letter from their supervisors via online registration form. Please be advised that student rate will not be applied for students who have full time job.

3) Accompanying person is a family member of other category's participant except "Student", and is limited for one person only. Only one accompanying person can be registered. Registration fee not includes technical session and proceedings.
Payment Method
Payment must be made in Japanese yen, and can be made by one of the following methods:
Credit Card (VISA, MasterCard, Diners Club, AMEX or JCB).
Bank Transfer (Only for domestic participants)
銀行名:三菱UFJ銀行 新丸の内支店(支店番号:422)
口座番号:(普)3980478
口座名:SETC2019
口座フリガナ:エスイーティーシーニセンジュウキュウ
*振込手数料は各自にてご負担願います。
*請求書ご希望の方は、オンライン登録時に「Bank Transfer」を選択後、PDFフォーマットの請求書がダウンロードできます。
*Advanced Registrationで登録する方は請求書の発行締切が8月31日となります。
*Advanced Registrationで登録する方は必ず9月30日までに指定口座へ着金が完了するようお願い致します。
*For completing the Advanced Registration, it should be paid in full by September 30, 2019.
Receipt
It will be provided at the Registration Desk.
Notification e-mail
Reply e-mail:
After you complete on-line registration, a reply e-mail will be sent to your registered e-mail address automatically.
If you do not receive it within 24 hours, please contact the Registration Office.
Cancellation Policy
Notice of cancellations must be made in writing to the Registration Office<setc2019-reg@jtbcom.co.jp>. The following cancellation fees will apply, based on the date when the office receives your cancellation notification.
Please note that banquet fee is not refundable with any reasons.
| | |
| --- | --- |
| Date of Cancellation | Amount of refund |
| Until Sep. 30, 2019 | 90% of Registration Fee |
| From Oct. 1, 2019 through Oct. 31, 2019 | 50% of Registration Fee |
| After Nov. 1, 2019 | No Refund |
*How to refund:
Via credit card: The refund will be made to the card you used for payment.
銀行振込:ご返金は会議後となります。返金の際にかかる振込手数料は返金額から差し引かれます。
Please complete Conference Registration before Technical Visits Registration.
Visa Support
Citizens of certain countries are required to obtain a visa to enter Japan. Please check the website of the Ministry of Foreign Affairs of Japan (MOFA) to know if you need to obtain a visa and the visa application procedures:
http://www.mofa.go.jp/j_info/visit/visa/index.html
The SETC2019 Visa Support Office (visa-application@t-e-i.co.jp) will prepare the documents that should be prepared by the inviting person in Japan and send them to you.
Before you apply for assistance, you are required to take the following steps.
Complete your registration with full payment
Book a Flight
Reserve a Hotel
* The period of your stay must be scheduled for a maximum of 10 days (including symposium period (4 days), arriving and departing day in Japan).
*Please note that we follow the cancellation policy above, even if you fail to acquire a visa.
| | |
| --- | --- |
| Visa Support Application Starts on | Middle of August 2019 |
| Deadline for Visa Support Application | October 21, 2019 |
SETC2019 Visa Support Office
c/o TEI Inc.
E-mail: visa-application@t-e-i.co.jp
Any inquiries concerning registration should be addressed to:
Registration Office of SETC2019
c/o JTB Communication Design, Inc.
Celestine Shiba Mitsui Bldg., 3-23-1 Shiba, Minato-ku, Tokyo 105-8335, Japan
TEL:+81-3-5657-0789
E-MAIL : setc2019-reg@jtbcom.co.jp
---
SETC2019 SECRETARIAT
Society of Automotive Engineers of Japan, Inc. E-mail: SETC2019@jsae.or.jp