October 28, 2013

I would like to express our heartfelt gratitude to all of you having participated in the SETC 2013.
The conference was a great success thanks to 360 participants from 22 countries with 116 technical presentations, 26 exhibitions and 13 posters

I hope we meet again at SETC2014 held in Pisa, Italy.

Minoru IIDA
JSAE Organizing Committee Chair of SETC 2013
Society of Automotive Engineers of Japan, Inc.
- Awards (PDF)
- List of Papers (PDF)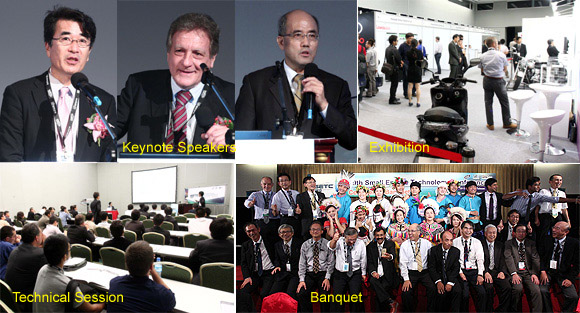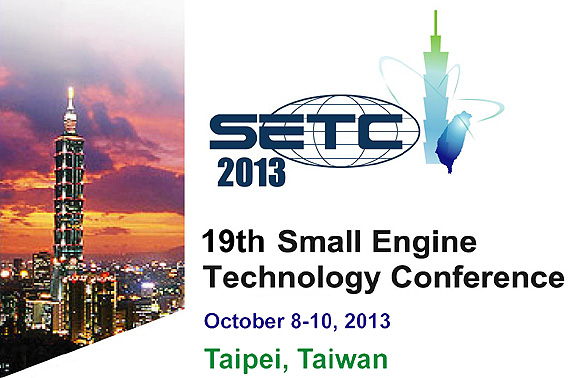 Theme: Challenges for Energy Conservation
Since the first event in 1989, the Small Engine Technology Conference (SETC) continues to be the international technology conference for small engines and related products. SETC is jointly sponsored each year by the Society of Automotive Engineers of Japan, Inc. (JSAE) and SAE International.
JSAE is pleased to organize the 19th SETC that will be held from October 8 to October 10, 2013 at Taipei International Convention Center in Taipei, Taiwan. The event is co-organized by SAE International Taipei Section and also supported by Japan Land Engine Manufacturers Association (LEMA) and Japan Marine Industry Association (JMIA).
SETC2013 is themed, "Challenges for Energy Conservation". Due to growing expansion of world economy, we see rapid increase in demand for energy while that for small power source rising because of useful and affordable machines. Energy conservation is a key issue to foresee future potential of small power sources.
Technical visits and plenary session are planned for enlarging experience to the conference attendees besides exhibition and poster session. Technical exhibition will link technical activities with support to presentation of work in progression various fields, while poster session designed to promote technological information exchange between academia and business industry.


SETC2013 SECRETARIAT
c/o Elite Professional Conference Organizer
E-mail : setc2013@elitepco.com.tw
Tel : +886-2-8502-7087
Fax : +886-2-8502-7025
Society of Automotive Engineers of Japan, Inc
E-mail: SETC2013@jsae.or.jp
Tel : +81-3-3262-8214
Fax: +81-3-3261-2204